JD market assurance programs (MAPs): Resources for approved veterinarians
Johne's Disease Market Assurance Programs (MAPs) are a key strategy in the control of Johne's disease.
MAPs are voluntary programs for producers which enable them to identify and promote their negative Johne's disease status to their clients. Herds and flocks in the MAP are not accredited as free of Johne's disease, but they have a low risk of being infected compared to Non-Assessed herds and flocks.

The information below is for veterinarians involved in MAPs in NSW.
You may also be interested in...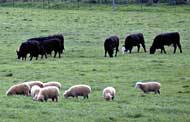 Related websites